Start over
We accept that item, but unfortunately cannot pick it up.
If you want to donate this item, we ask that you drop it off at Value Village Bayer's Lake
Yes! We will pick it up!
Please provide your contact details and we will touch base to schedule a pick up time...
Thank you! We will contact you soon to schedule a pickup.
...Or you can drop it off to one of our many donation locations.
Let's get a pickup scheduled!
Please enter your contact info, and we will get you a pickup time for:
DONATION BINS
You can drop your donation in one of our conveniently located bins across Greater Halifax.
CLICK HERE TO FIND A BIN NEAR YOU.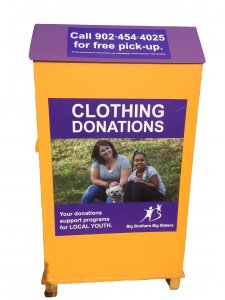 Please be aware – it is very dangerous to climb inside a clothing donation bin through the hatch.